Want a sneak peek at the next Xbox? Look at the Xbox 360.
Microsoft keeps adding reasons to turn on the Xbox 360. Do these new features actually lay the groundwork for the next Xbox?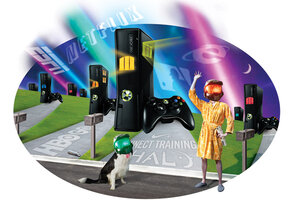 Scott Wallace
In 2005, Microsoft released the Xbox 360 to the delight of hard-core gamers. But Microsoft had bigger plans. It designed the video-game console as a Trojan horse – a way for the king of personal computers to take over your living room.
Each year, Microsoft has added new reasons to turn on your Xbox, including movie rentals, live sports, all-you-can-eat access to more than 30 million songs, voice commands, TV shows, fitness programs, motion controls, online searches, the ability to use your phone as a remote control – and, of course, video games.
"There are other guys who have multipurpose devices, but no one has done it successfully in the living room, except for Microsoft," says Michael Pachter, a research analyst with Wedbush Securities in Los Angeles.
Even seven years in, Americans bought 270,000 new Xbox 360s in October, more than the Nintendo Wii and Sony PlayStation 3 combined, according to the NPD Group, which tracks consumer spending.
---