Apple's Siri has a rival: Google voice search
The Google Search app does some things better than Siri.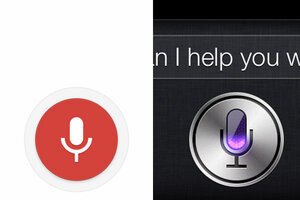 Screenshots
Apple promises a lot from Siri. The company advertises this "intelligent assistant" as a major selling point for new iPhones and iPads. Ask a question out loud, and Siri digs up an answer; dictate an appointment, and Apple's software will jot down the date for you. At least, that's the idea.
"It never un­derstands my voice," says Amanda Soloway, an iPhone owner and student in the University of Washington's Master of Business Administration program in Seattle. "I think there was one time that I got it to work. I got it to put something on my calendar. But by the time Siri figured out what I was saying, I could have just done it myself."
Ms. Soloway echoes the complaints of many unhappy Siri users. In specific cases, Apple's ­robot-voiced helper can be quite a crowd pleaser. (Ask it to "tell me a joke" or "what's '2001: A Space Odyssey' about?") But when it comes to legitimate utility, Siri is often lacking.
Things look even worse for Siri now that Google is trying to beat Apple at its own game. The iPhone's Google Search application recently got a big update that unlocks voice search. The free app works much like Siri. Press the microphone icon, say your query aloud, and Google attempts to sniff out an answer.
---