Galaxy S III, Lumia 920, Note II: Three phones that rival Apple
Interested in a phone that's not the iPhone? Samsung and Nokia makes several excellent phones that should go on any smart-phone shopper's short list.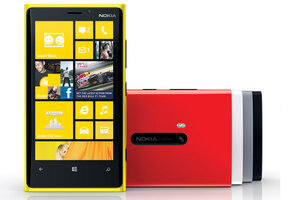 Courtesy of Nokia
Late in 2012, the world crowned a new king of smart phones. The Samsung Galaxy S III is now the most popular phone in the world, outselling the Apple iPhone 5, according to research firm Strategy Analytics in Newton, Mass.
While this is the first smart phone to race ahead of Apple's in years, it's far from the first device to rival the iPhone feature for feature.
Here are three excellent, non-Apple smart phones that deserve a spot on any shopper's shortlist.
Samsung Galaxy S III: Samsung built the paragon of Android phones. It's not the fastest device to run Google's operating system. With a price tag of $200 to $250 (with a two-year contract), it's definitely not the cheapest.
But the Galaxy S III is a jack-of-all-trades. Its screen? Large and lovely. Its camera? One of the best of any Android phone. Its data connection? Top-of-the-line 4G LTE, which can download files faster than some home Internet connections.
Android has mostly caught up with Apple in terms of applications. Both app stores offer all of the essential programs or at least very similar alternatives. In many cases, breakthrough hits still debut on iPhone and then pivot to Android a few months later.
But Android has better versions of the ever-so-popular Google apps, such as Maps, Translate, and the remarkable Google Goggles, which can identify paintings, name famous buildings, decipher foreign languages, and even solve Sudoku puzzles – all on sight. (Just snap a photo of the object in question and give Google Goggles a moment to process.)
The Galaxy S III works with all five major American phone companies: Verizon, AT&T, Sprint, T-Mobile, and U.S. Cellular.
Nokia Lumia 920: While Samsung and Apple duke it out, Nokia has designed a killer phone that runs Microsoft's phone operating system. Windows Phone 8 is elegant and streamlined (much like the iPhone) but lets people personalize the look of the phone (much like Android).
---