How big data helps big cities
When troves of information are opened to programmers, problems get solved.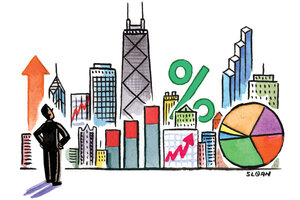 Michael Sloan
By order of the White House, June 1 marks the first National Day of Civic Hacking. Cities across the country will invite programmers to rally together and improve local government one line of code at a time.
In New York, more than 80 teams have signed up for NYC Big Apps, a competition in which people hunt for digital solutions to the city's problems. Projects range from the serious (software that compiles crime, garbage, and other city statistics to create a quality-of-life index) to the amusing (a game in which players race to claim territory in the city by snapping photos of billboards with their cellphones – if an ad isn't in New York's official database, the billboard is flagged as likely being illegal).
Many of these projects would be impossible without a recent shift in American cities. Mayors in New York, Chicago, and elsewhere have opened up a fire hose of data about their cities. This flood of information has allowed city workers to stay on top of problems – some of which they never knew existed – and has helped launch new businesses within the city limits.
"When I joined as chief data officer, the initial goal for releasing all of this data was transparency," says Brett Goldstein, who heads Chicago's Department of Innovation and Technology. "But along the way, we learned a couple of really interesting things. We learned that open data can do so much more than that."
About a year ago, Scott Robbin, a programmer in Chicago, approached Mr. Goldstein with an idea. He wanted an application that could send e-mails or text messages to residents as a street sweeper approached their homes, giving people an extra reminder to move their cars. Goldstein liked the idea – he'd received a few tickets of his own – but his team would likely never find time to create such an app. It didn't need to. The city found the data, published it online, and let the community take it from there. Shortly after the database went public, Mr. Robbin launched SweepAround.Us as a free online service.
Another app, SpotHero, uses a mixture of city data and business partnerships to sniff out nearby parking spots. The local company recently raised $2.5 million in venture-capital funding and has expanded its operation from Chicago to Milwaukee and Washington.
---