T-Mobile offers free data, zero down on tablets. Is it worth it?
T-Mobile said today that it would extend its 'un-carrier' program to tablets such as the Apple iPad Air and Google Nexus 7.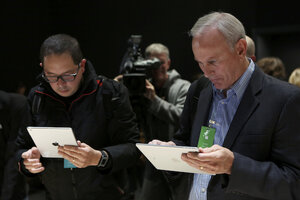 Reuters
T-Mobile, the fourth-most popular wireless carrier in the US, has unveiled another plank in its so-called "Un-carrier" initiative. 
In a press release this week, the Deutsche Telekom subsidiary said it would begin offering all tablets for $0 down, allowing approved customers to pay off their new device in monthly chunks. In addition, the company said that it would offer tablet owners 200MB of free cellular data every month – for life.
"Tablets are supposed to be un-tethered like smart phones, but it hasn't worked out that way because people know carriers will charge them an arm-and-a-leg for mobile data," John Legere, president and CEO of T-Mobile, said in the statement. "Carriers figured out a long time ago that they could make money – a lot of money – by forcing customers into restrictive, overpriced data plans. We changed it for smart phones and we're changing it for tablets."
Couple things to note here. First: 200 MB is not an extraordinarily large amount of data. (Brian X. Chen of the New York Times points out that it's "about enough to post 800 Instagram photos or 2,500 e-mails.") Forget about streaming any movies with cellular data: Even the "good quality" option on Netflix streaming consumes an estimated 310 MBs an hour. 
It's also worth noting that paying zero down is an attractive proposition in theory, but in practice, it probably means you'll be paying more for your device in the end. Over at Engadget, Jon Fingas points to the case of the Nexus 7, which T-Mobile will sell beginning on Nov. 20. 
"Customers can get Google's tablet with no money down if they're willing to pay $16 per month for two years, or $384 in total," Mr. Fingas writes. "That's ultimately more expensive than purchasing through Google Play, but it may be easier to swallow for those who can't afford to buy the device outright." 
In a separate statement, T-Mobile said it would include the new iPad Air in its "un-carrier" tablet roll-out. 
"Along with the new A7 processor and a handful of under-the-hood improvements," the Verge wrote in a hands-on test of the new iPad, "this is just about the upgrade we expected, but more than ever the iPad Air feels like you're just holding a big screen full of the internet. That's probably a good thing."Â 
---