Disney Infinity and Skylanders: Toy/game mash-up is retail bonanza
Disney Infinity follows Skylanders lead with toy – and digital – heroes.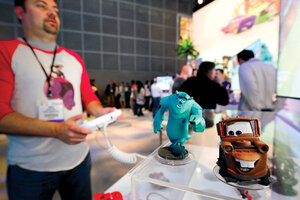 Reuters
This year's most popular action figures blur the lines between toys and games.
The new video game Disney Infinity comes with a plastic pedestal and three action figures, each of a different Disney character. Place Lightning McQueen atop the pedestal and the "Cars" hot rod appears inside the game. Swap in the Jack Sparrow figurine for a swashbuckling romp through "Pirates of the Caribbean."
Each character comes with its own story and several hours of game play. If players grow tired of the starter set, they can unlock new worlds by purchasing additional action figures. New figures cost between $10 and $17 each.
At a time when toy sales have been flat for years, this melding of the digital and the physical has shaken up both industries.
While it's too soon to tell if Disney Infinity is a hit, its chief competitor has dominated toy stores. Skylanders follows essentially the same formula. Players swap through a menagerie of monsters that exist both in pixel and toy form. Additional figures, which are available at major retailers, unlock new areas and challenges.
Activision, the company behind Skylanders, announced in July that its genre-defying toys have outsold all other action-figure properties in the United States and Europe during the first six months of the year. Over the same period, the game's sequel, Skylanders: Giants, made more money than any other video game.
Melding toys and games has turned into a $1.5 billion business for Activision.
" 'Retail is dying,' that's what everyone else is saying, whereas Activision has taken a completely different approach, and it's been a huge success," says Kris Graft, editor in chief of Gamasutra, an industry news outlet written for the people who make games. "It's no wonder that Disney is putting a lot of weight behind Infinity."
Disney has released 17 figurines across five franchises and announced 12 upcoming toys, including characters from "Toy Story," "Fantasia," and the TV show "Phineas and Ferb."
---