Buying a laptop? Look for Haswell.
Intel's new 'Haswell' chip will markedly extend battery life.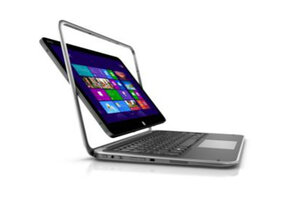 Dell
This winter is a good time to go laptop shopping. Intel released its latest line of processors for desktops, laptops, and lightweight Ultrabooks. This new generation of chips, code-named Haswell, will make computers faster and much more energy efficient than before.
"This is the biggest battery-life increase we've seen, generation to generation," says Pat Cassleman, Intel's Haswell product marketing manager.
For example, Apple's 2013 MacBook Air – one of the first computers to utilize Haswell – gets close to double the battery life of the 2012 model, according to a survey of independent reviews. The latest Air with a 13-inch screen can play video uninterrupted for more than 8 hours, compared with 5 hours for last year's model.
Intel also designed these "fourth generation" processors to help computers sleep for longer and wake up faster. Windows 8 Ultrabooks from Asus, Sony, and Dell can now drift into standby mode for more than seven days without needing a recharge. When you're ready to use the computer again, the new Ultrabooks bounce back to life in less than 3 seconds.
Many laptops, desktops, and Ultrabook models now come with Haswell chips, but the rollout has been slow and staggered. With the new year, however, most computers will have switched over.
"If you don't care much for battery life, the computing performance difference [over the previous Intel chips] is not that great," says Matt Smith, who reviews computers for Digital Trends. "It's not like, if you buy the third-gen, all of a sudden you're going to have a computer that feels really slow. You'll still be fine."
---