iPhone filling up? Here's what to do.
Spot space-hungry iPhone apps; stash photos in the cloud.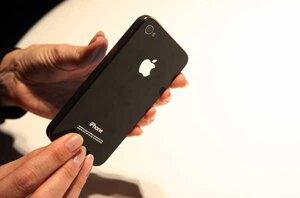 Reuters
Apple released a major new software update Tuesday called iOS 7.1. The patch improves fingerprint recognition on the iPhone 5S, fixes several bugs, and adds the ability to use CarPlay in some vehicles. This is a hefty update, requiring between 250 megabytes to 325 megabytes of free storage space to download and install.
As people fill up their phones and tablets with videos, applications, photos, and music, extra storage space is in hot demand. If you don't the space required for iOS 7.1, here are a few tips for freeing up memory on your iPhone, iPad, or iPod Touch.
Step 1: Find out what's hogging space. Before you can intelligently tidy up your device, take a moment to sync it with your computer. Whenever you sync an Apple phone or tablet – whether wirelessly or by simply plugging it into your computer – iTunes will create a chart that maps out the device. This colored graph, which appears at the bottom of your iTunes window, shows how much of your storage capacity goes to audio, video, photos, apps, books, other, and free space. If any of these categories take up an inordinate amount of space, that's probably what you should tackle first.
---