The List Project: a commitment to helping Iraqis find refuge in the US
Kirk Johnson is devoted to helping Iraqis resettle in the US. Hundreds, faced with death threats, are still waiting.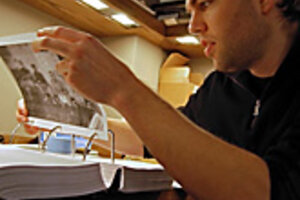 Jill Carroll
The e-mail attachment reveals a face disfigured from eight bullet wounds. The message, sent from Iraq, could have been pared down to a single word: Help.
Kirk Johnson carefully files it with hundreds of others from Iraqis who are in peril because they worked for the United States or its allies.
It is the personal pull of such messages that drives Mr. Johnson and his List Project. For a year, he has doggedly worked to help Iraqis enter the US. To date, 20 have arrived. Yet more than 800 people remain on his growing list. "I will have people die on my list before the next president is elected," he says.
Saving lives is not how Johnson had planned to make a difference. He went to Iraq in January 2005 to work on reconstruction projects for the US Agency for International Development (USAID).
He traded the relative safety of Baghdad's Green Zone for the insurgent stronghold of Fallujah and spent eight months intensely focused on making change. His first project was almost ready to start when he left for vacation in December 2005.
But while away, he suffered a serious injury. His job contract in Iraq expired while he recovered, setting him adrift. Then in the winter of 2006 a former Iraqi colleague, Yaghdan, e-mailed him. Someone had left a severed dog's head with a death threat on his doorstep. Johnson sought help and discovered the US government had no system to bring its Iraqi employees to safety. Outraged, he penned a commentary in the Los Angeles Times. E-mails poured in.
---