Stymied? Huddle with a garden 'coach'
For those lacking a green thumb, help is on the way.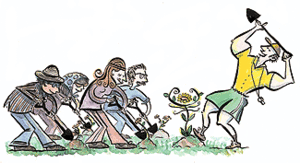 julia gran
Gardens in magazines appear restful and serene. But talk to homeowners facing overgrown yards, and they use words like "intimidating" and "frustrating." Their backyards cry out for a firm hand and a Mr. Universe-style shape up.
Enter the gardening coach, who acts as a personal trainer for the green-thumb challenged – people who don't know a pruning saw from hedge clippers. Coaches also work with more experienced gardeners who need a fresh eye on a problem.
When homeowner Janice Papolos finished decorating the interior of her house in Westport, Conn., three years ago, her attention was drawn to the outdoors. At a little over an acre, her property's parklike setting had potential, but "nobody had pruned, everything was leggy," Ms. Papolos says. Instead of bringing in a landscape crew to simply cut down trees, she hired garden coach Victoria Sec­unda, who walked the property with her and pointed out the valuable trees and the junk.
"It became like an odyssey," Papolos says. "Victoria helped me see into the future," to visualize what the yard could become.
Garden coaches, or tutors as they are also called, are on the rise. The phrase "gardening coach" has seen a marked increase in its use in published articles and online. While no formal organization tracks their numbers, a directory at www.thegardeningcoach.com lists 44 coaches in the United States, Canada, Britain, and Australia. "It's just starting to become a phenomenon," says Susan Harris, a coach and writer in Takoma Park, Md., who manages the website and mentors other coaches.
---