Basketball's Chris Webber gives a clinic – in African-American lore
The Golden State Warriors forward turns a personal passion into a pass-along for the next generation.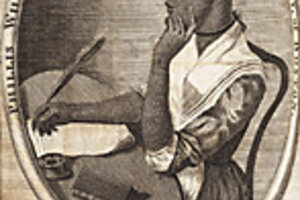 courtesy of the chris webber collection
Veteran pro-basketball star Chris Webber has more than fast breaks and slam-dunks on his mind these days: He wants African-American history to come alive for youths. To do that, he's become a serious collector of African-American artifacts and documents dating back to the 1700s.
The prized items in The Chris Webber Collection of African-American Artifacts and Documents include the first book written by an African-American in America, and the second by an American woman. The collection also contains a program autographed by Dr. Martin Luther King Jr., letters written by scientist George Washington Carver and educator Booker T. Washington, and an early-1800s accounting ledger from Virginia documenting the buying and selling of slaves.
Mr. Webber is currently sharing his collection at an exhibit at the Central Library in Sacramento, Calif. One of his favorite pieces, he says, is a postcard sent from civil rights activist Malcolm X to Alex Haley, the historian and author of the bestselling book "Roots."
---