Communist retro-chic: East-bloc icons win new status
Spurred by nostalgia and the sameness of globalization, Communist-era goods make a comeback in Eastern Europe.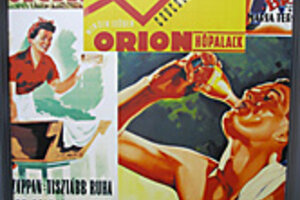 Colin Woodard
At the Art Café, an enclosed gazebolike structure in the middle of a central square here, the multigenerational clientele lounges around talking and reading the papers. It's a scene that could be anywhere on the European continent, apart from one detail.
They're all drinking half-liter glasses of Kofola, a soft drink invented in the '60s to serve as Communist Czechoslovakia's substitute for Coke and Pepsi.
Nineteen years after the collapse of Communism, Kofola is in the midst of a renaissance. Far from being pushed aside by its Western competitors, it's outcompeting them. The not-so-sweet brown beverage is the top-selling soft drink in Slovakia, No. 2 in the Czech Republic.
"In the 1990s, Coke kicked in, in full force, but they never defeated Kofola," says Pavol Szalai, a 20-something magazine editor who prefers the old Communist brand. "It's very popular, especially in the countryside, because it's 'our' drink."
It's not an isolated phenomenon. In recent years, many of the countries of the old East bloc have discovered a newfound fondness for the brands, bands, and programs of the Communist period. Many homegrown products are challenging their Western rivals, a few decades later than the region's Communist apparatchiks hoped they would. Socialist-era rock bands and television shows have found a new fan base, while young professionals flock to restaurants and nightclubs modeled on the drab cafeterias and workers' hangouts of the '70s and early '80s.
---