To keep kids safe, Chicagoans join the walk to school
A spate of violence engulfing students has galvanized the city.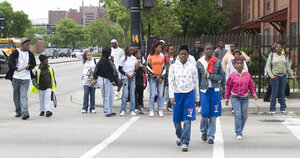 Stephen J. Carrera/Special to The Christian Science Monitor
Every weekday morning, parents and volunteers, wearing bright yellow shirts and neon jerseys, join with police to accompany up to two dozen students from ABLA Homes, a Chicago public housing project, to the Richard T. Crane Technical Preparatory Common School two miles away. In the afternoon, they make the return trip, including the ride on the city bus.
The reason? In March, a shooting near the school left a student dead and others fearing retaliation. "You got to do what you can to stop the violence," says Deverra Beverly, president of ABLA's advisory council and an activist who helped conceive of the escort, dubbed Operation Safe Passage.
The effort from this West Side Chicago neighborhood is one of the most organized community responses to a spate of violence that has engulfed schoolchildren and galvanized the city. Since the start of the school year, 24 public school students in Chicago have been killed – a classroom's worth of kids, as many local editorials have noted; 21 of them were shooting victims. While the numbers don't represent a big rise from the past few years, the violence is worse than a decade ago and grabbed the city's attention.
At one point, the Chicago Sun-Times printed its front page in reverse, including the newspaper's name – an attention-grabbing tactic to, it said, "say to our fellow Chicagoans ... that turning our back on the violence killing our young people will not make it disappear."
Rallies have been held downtown, ministers have taken up the cause, and Mayor Richard Daley has pushed gun-control legislation, summer jobs, and new research on preventing youth violence.
---