Quake aid: Neither landslides nor Chinese troops stop this volunteer
Frank Dunne climbs hills and crosses streams to bring aid to remote villages in quake-hit Sichuan Province.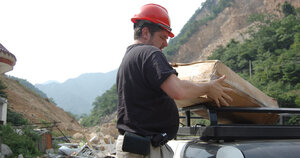 Peter Ford
Clambering over giant landslides in the middle of nowhere in Sichuan Province, carrying aid to quake victims, is not what Frank Dunne came to China to do.The beefy, middle-aged salesman from Virginia actually had an even more exotic plan – making apple jam in Tibet. But that was put on hold because Chinese authorities have not allowed Mr. Dunne to go home since the Tibetan uprising in March.
So in his new adventure, he's organizing, sometimes leading, "extreme teams" that the US charity "Heart to Heart" has been sending to more remote mountain villages, schlepping in aid on their backs when the roads are blocked.
His destination last Tuesday was Long Zhu, a scattering of houses across forested hillsides now scarred by rock slides, that he had visited 10 days earlier as the head of the first civilian relief team to reach the 800 inhabitants.
"If not for the earthquake," he says, "I would probably be somewhere else learning Chinese, which is what I ought to be doing. But this gives me a nice, noble reason not to study."
"The place captured my heart because it's just paradise," he explained, "except that at the moment nobody has a house to live in or a dry bed to sleep in."
---