Can you replicate London's Speakers' Corner?
England moves to create more of the free-speech 'corners' – with a little less spectacle and a little more substance.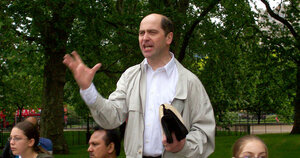 London and Brighton, England
Peter Alexander extends his mini-stepladder and plonks it down on the rain-dampened pavement. He looks heavenward.
"I hope that's the last of the rain," he says. "Rain makes people take refuge in coffee shops."
He unravels a ball of string and ties homemade placards, laminated in rain-busting plastic, to his stepladder. One warns that the end of world is not only nigh, "it is happening RIGHT NOW."
Mr. Alexander has been coming to this corner of London's Hyde Park every Sunday for the past year. A video producer on weekdays and a "revealer of truths" weekends, he wants to alert people to the fact that "the world is ending as we speak."
He adds: "You can see it in the freak weather incidents, the wars in the Middle East, the credit crunch.... And all of this is being orchestrated."
By whom?
"By them." He nods in toward central London.
Anyone overhearing might half-expect to turn and see "Matrix"-style men in black and shades ready to haul him away in a van with no-number plates. But there is only a smattering of tourists and Londoners, umbrellas at the ready, listening to speeches on everything from Greek democracy to fast food to Armageddon.
The clouds spit down some drizzle, and Alexander observes seriously that even though the US government experiments with weather control "I don't think they'd deploy it just to keep me from speaking."
He ascends his stepladder, and starts speaking. Before long, 20 people have gathered, some listen intently, others heckle wildly.
• • •
Since it was set up in 1872, Speakers' Corner in Hyde Park has been one of the world's best-known forums for public debate – and public displays of intellectual eccentricity.
---