Volunteers send aid through Burma's (Myanmar's) back door
They are channeling supplies across the Thai-Burmese border to existing underground networks spread across the disaster zone.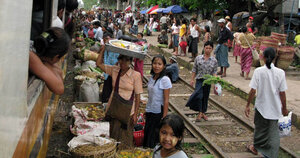 AP
When the call came, Samantha Finke was in South Dakota. Like other staffers for Sen. Hillary Clinton, she wondered what the future held as primary season finished up.
Five minutes later, she had an answer. Switch to Sen. Barack Obama? No, Ms. Finke elected to fly here June 11 to join a grassroots effort for cyclone relief and civil empowerment for Burma (Myanmar), run by the father of her friend who was calling to urge her to come.
For most volunteers hoping to help, Burma seems like a bust. Five weeks after cyclone Nargis killed 134,000 and uprooted 2.4 million, military rulers continue to keep foreign aid workers at arm's length.
But not all roads to the disaster zone go through Rangoon, where relief groups are based. Aid is also trickling over Burma's international borders, often via bases of activism against Burma's regime. It's a backdoor channel for aid groups unwilling or unable to go through the front. By tapping an existing underground network in Burma, they try to bypass official channels and put aid directly in the hands of the most needy.
"It was Thailand all the way. I never questioned it. If you know what's going on in Burma, I don't know how you could not do it," says Ms. Finke, one of several enthusiastic, young volunteers who have joined this underground aid effort.
---