In L.A., valet is everywhere – and not just for cars
In the city where parking your own car is so yesterday, residents rely on valet service for their bikes as well as BMWs.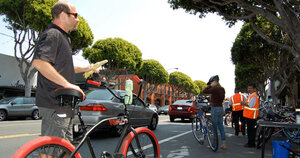 Los Angeles - Andy Dunbar is usually anti-valet parking, preferring to spend several minutes searching for a space on the street rather than pay $5 for someone else to park his car. But on this particular morning, Mr. Dunbar has decided to buck his do-it-on-my-own ethos and give in to the valet parking attendants in front of the Santa Monica Farmers' Market.A line of road-weary commuters queues up in front of the attendants in their trademark orange vests, dutifully going about parking the various modes of transportation – Raleighs, Treks, and Schwinns. "This is one of those opportunities I can't pass up," says Dunbar, a local attorney. "The valet parking is free, and what a great excuse to get on your bicycle and go for a ride on a Sunday morning."
In the city that considers parking your own car oh so yesterday, valet service is expanding to the Farmers' Market and other unusual venues for whatever form of transit people seem to use – be it car, Cannondale, or camel.
Personal convenience, growing gridlock on the roads, and a status-oriented culture have helped turn valet parking into a phenomenon here well beyond a few high-end restaurants. Now health clubs, supermarkets, and outdoor shopping bazaars are offering either paid or free parking service. Perhaps nowhere is the practice more entrenched than in LA.
"Los Angeles is the kind of place where some people enjoy the notice of getting out of their car," says Barbara Gross, a professor of consumer behavior at California State University Northridge. "But I believe functional value is mostly at play here, and people see valet parking as utilitarian and an efficient use of time."
---