Penumbra Theatre founder defines American black stage
Lou Bellamy's vision is that everything is performed as if there were only black people in the audience.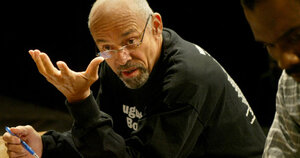 Courtesy of Joel Koyama / startribune.com
t. Paul, Minn. - I call the Penumbra Theatre box office and explain that I'm a journalist hoping for an interview with Lou Bellamy. The young man on the other end of the line hesitates a moment."OK," he finally tells me. "I can give him your information. But I can't make him call you back. Do you understand that?"
Uh oh. Is this going to be a problem?
Lou Bellamy is a man with a reputation for feistiness. ("Incendiary" is another word a journalist once used.) But to my relief, I receive an e-mail within minutes. Sure, he's happy to talk.
It's hard not to be curious about a contrarian like Mr. Bellamy. In 1976, he founded the Penumbra Theatre Company, an all-black repertory theater group in this small Midwestern city where blacks make up only a little over 10 percent of the population. In the struggling field of local theater, such demographics ought to spell disaster. Yet Bellamy was clear from the start that he would not be courting white audiences.
"Everything is performed as if there were only black people in the audience," he says of Penumbra, which uses all-black casts to perform only works by black playwrights. For white people, Bellamy acknowledges, coming to Penumbra "is like being in a foreign country." If white audiences have to work harder, it doesn't worry him. After all, as he once told a journalist, it's "just like what I have to do when I watch Chekhov."
And yet, extra work or not, for more than 30 years, the audiences have come. Last season, Penumbra productions drew 44,000 spectators – largely white. And although there have been years of financial peril (Bellamy says that he has more than once taken out a second mortgage on his house to keep the theater afloat), Penumbra is currently debt-free with a budget of $3 million.
---