Taste is on the agenda for military Meals Ready to Eat
Finding a way to a soldier's heart through chipotle chicken. Next challenge: eggs.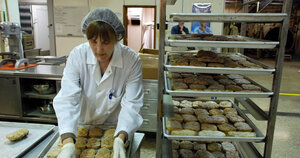 Tom A. Peter
Natick, Mass. - Like any chef, Jeanette Kennedy's palate has become so refined over the years that, given any dish, she can single out virtually every ingredient – the pinch of black pepper, the hint of oregano, or the vegetable oil subbing for olive oil.
On a recent morning she was testing a slab of pound cake, her face blank as she silenced her other senses and focused on taste and texture.
After a good long chew, Ms. Kennedy spit the cake into a paper cup – an indelicacy that was not a comment on the cake (which she deemed pretty good), but the result of a high calorie occupational hazard. This pound cake is no tea party trifle; it's combat cuisine – part of an MRE, Meal Ready to Eat – designed to fuel soldiers lugging 100-pound packs all day.
A food technologist at the US Army Natick Soldier Systems Center (NSSC) west of Boston, Kennedy faces creative challenges unlike those before any other chef. Meals can't just taste good; they've got to last ... for three years stored at 80 degrees F., be capable of withstanding chemical or biological attacks, and survive a 10-story free fall (when packed in a crate of 12).
In this world, making something as seemingly simple as a sandwich earns a food technologist rock star status, even if only within the confines of the lab.
• • •
Ask anyone who has worn a US military uniform and they'll have an opinion about rations. MREs – the name given to the rations first served in the 1980s when canned fare gave way to meals packed in sturdy beige pouches – have nicknames that pretty much sum up what many troops think: Meals Rejected by the Enemy, Meals Rarely Edible, and Meals Refusing to Exit (a name that continues to stick despite the addition of more fiber).
---