These days, golf is becoming a family affair
As families do more activities together, golf associations are reaching out to include them.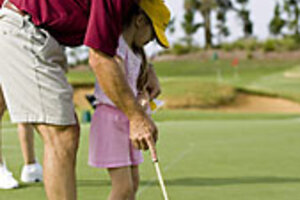 Simon Dale/The PGA of America/File
At Bill Allen's junior golf classes at the North Hill Country Club in Duxbury, Mass., kids as young as 5 learn how to hit a ball out of a sand trap and to remove tee marks from the grass. On a recent Monday, as a group of mothers stood watching, a few commented on how their children's involvement in the game has spurred their own.
"My kids started playing golf because it's my husband's passion," says Carolyn Loiselle, the mother of an 8-year-old daughter and 6-year-old son. "Then I said, 'If the three of you are going to play, I'm not going to be left out.' "
Ms. Loiselle, along with many of the other young golfers' moms, signed up for one of the women's golf camps Mr. Allen began offering last fall. The response to the camps so far has been overwhelming; each has sold out, so he has continued adding new ones.
The "golf widow" image of old – the woman left at home while her husband heads out to the course – has started to fade, Allen says, particularly as more kids are showing interest in the sport. "Women are saying, 'it's my turn to start.' "
Allen's experience would seem welcome news for the golf industry, as much has been made of the sport's decline in recent years. According to the National Golf Foundation (NGF), the number of golfers has remained flat for the past five or six years, while the number of frequent or "core" golfers has fallen. Changing family obligations have been fingered as one reason, as fathers shoulder more household responsibilities than they did a few decades ago.
---