They cooked up recipes for charity
As women's groups published cookbooks to raise funds for causes and those in need, they also empowered themselves.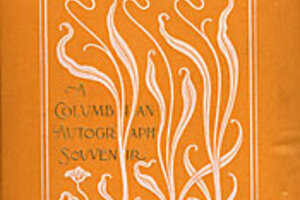 Courtesy of Janice Bluestein Longone Culinary Archive/Clements Library/University of Michigan
During many years as an antiquarian book dealer specializing in culinary works, Janice Longone had the privilege of handling almost every major cookbook in the world.
But however splendid or treasured some of those volumes were, it was a far humbler category, known as charity cookbooks, that captured her heart. Published by women in nonprofit groups across the country, these fundraising books have been rolling off American presses since the Civil War, benefiting churches, schools, libraries, sororities, cemetery associations, the homeless, and others in need. Some also gave heady new power to the women who produced them.
"No matter what the specific cause for which the women raised funds, the underlying purpose began as women helping other women to help themselves and the outside world," says Mrs. Longone, now curator of American culinary history at the University of Michigan's Clements Library in Ann Arbor. She considers them "an integral part of the history of the women's movement."
To honor the unheralded role of charity cookbooks, Longone has assembled more than 100 early examples at the Clements Library. Called "The Old Girl Network: Community Cookbooks and the Empowerment of Women," the exhibit will remain on view through Oct. 3.
These grass-roots books serve several purposes. "They preserve America's culinary heritage by region," Longone says. They also offer a record of American social history, including the suffrage and temperance movements.
The first known charity cookbook, "A Poetical Cook-Book," appeared in 1864. It featured rhymed recipes and raised money to support those wounded, widowed, and orphaned by the Civil War.
---