Know, know, know your boat
In New Jersey, locals have turned out to support the US national team with pizza, housing, handiwork – and delight.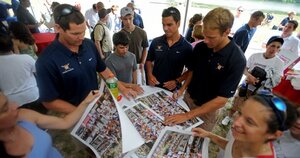 Ann Hermes
Under a tent on the banks of Lake Mercer, the placid morning water spaced with regimented rows of red and yellow buoys, Jaime Friscia can barely contain herself.
The newly named US Olympic Rowing Team, in training here, is signing autographs in a public meet-and-greet, and Jaime shuttles among the athletes, pen and poster in hand. It's the equivalent of a basketball fan's joy at meeting Michael Jordan.
Getting up early is nothing new for Jaime, a sophomore in high school and a passionate rower herself. "Me and my dad always come down here to see the rowers in the morning," she says. Today, she's here with both her parents, Rich and Barb Friscia. "It was awesome to see how many people came out!" Jaime continues. "One [of the rowers] said, 'I didn't know anyone would even come to this.' "
But come they did. This summer, in New Jersey's Mercer County – an area that includes both West Windsor and Princeton, which are about five miles apart – rowers' cries of "Pull! Pull!" are heard more often than in any other part of the country, and many fans know the athletes by name. From free pizza dinners and free housing to flexible work schedules at local employers, people here have surged forward to support the team, offering nearly everything they can.
The area has a long crew tradition, but over the past decade, a passion for rowing has been spreading even to those who, until recently, thought launches were for rockets, and shells for the beach. In 2001, the Princeton National
Rowing Association, a nonprofit that promotes the advancement of the sport, created the Mercer Junior Rowing Club, which allows high-school students like Jaime to train and compete in what has traditionally been an elite, Ivy League-dominated diversion.
---