Laboring to save home births
Amish groups rallied politically against state closure of midwife Diane Goslin's practice.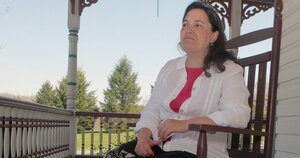 Bob Williams/Philadelphia Inquirer/Newscom
Midwife Diane Goslin's farmhouse office bustles with activity this summer morning. Horse drawn buggies line the driveway, while pregnant women line the waiting room inside – their hair tucked into bonnets, their dark dresses covered by black aprons.
A mother expecting her 11th child arrives with her daughter, who is expecting her first. Women do mending as toddlers scoot around their ankles. Childhood friends reunite, chattering in Pennsylvania Dutch. Sisters shriek with laughter at the unexpected sight of their expectant aunt.
Outside, on the porch – in a waiting room of his own – a lone, straw-hatted man rocks, amused, pretending not to overhear the women.
The Amish here in Lancaster County may go to the hospital if they break an arm or need surgery, but when it's time to give birth they stay home. Usually, they deliver their babies with the aid of a midwife, and the women in this waiting room half-joke that if Ms. Goslin goes out of business, they are through with childbearing.
It appeared to be coming to just that last fall when the Pennsylvania Board of Medicine ordered Goslin to cease and desist assisting her mothers, deeming it "practicing medicine and nurse midwifery without the appropriate licensure."
Though the case arose because an infant delivered by Goslin died a day after birth, it was never considered her fault, nor has there ever been any suggestion that her rates of death or complication are unusual. If she were practicing in any of the 24 states that recognize her status as Certified Professional Midwife (CPM) by the North American Registry of Midwives, she'd have proceeded with her usual 200 to 300 deliveries a year.
---