Freeing the futures of German youths
New programs aim to ensure low-income kids can aspire to promising careers.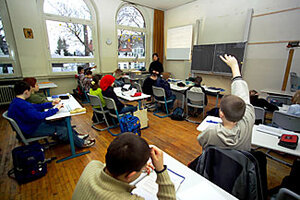 NEWSCOM/File
For years, Germany's selective college-prep "gymnasiums" produced the worlds' Einsteins and Göthes and its trade-oriented Hauptschule turned out the most reliable – and best paid – artisans. Tracking pupils by skill level as early as age 9 worked. So did relying on mothers staying home, with child care for young children almost nonexistent, kindergarten optional, and school ending before lunch.
But as Germany has become more heterogeneous, children born to less-privileged, working parents and non-native residents have started falling through the cracks.
Today the Hauptschule is often seen as a dumping ground offering graduates little hope of a job, and the gymnasium as reserved for the elite. Studies by the Organization for Economic Cooperation and Development (OECD) have said that in no other country is the academic success of children so dependent on their parents' socioeconomic backgrounds.
The debate became more urgent after researchers asked schoolchildren how they perceived their lives. In the recently released results of the study, children stunned Germany by showing how conscious they are that their social backgrounds stick to them like glue, charting their future.
"I'm in the Hauptschule, so I know I won't be able to do much when I'm older," said Kevin, one of a dozen children interviewed extensively by researchers. With his mother working as a cook's helper, he is on his own after school and hangs out with friends or watches television.
Conversely, Monique, who lives in a residential area near Munich and attends the selective gymnasium, sees her future with confidence: "I hope to have a good job," she said. In the afternoon, Monique goes from dance to music lessons, with her mother coordinating her free time.
---