Through the river and over the falls
Siragi Wasige makes his living leaping into Uganda's Bujagali Falls at tourists' behest.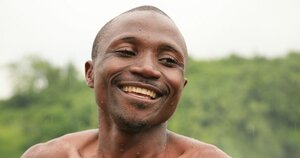 Glenna Gordon
Siragi Wasige doesn't have that many options.
Umwenda, the village along the Nile River where Mr. Wasige was born, is unremarkable, which is to say it has as little as most other villages in rural Uganda. But a guy with a wife and two kids at home has to earn a living, so Wasige spends his days along the river, waiting for tourists to wander by the famous Bujagali Falls. For just a few bucks, he does the trick that draws them to its banks: He hurls himself into a Grade V white-water rapid, wearing only his swimming trunks and holding an empty jerry can.
"You have to make sure the jerry can you use does not have an inlet for water – no cracks, no hole," he says as he tightens the lid on his five-gallon yellow jug. "If there's a hole, you sink."
He slips a rope around his wrist and tightens the knot at the other end, around the handle of the jerry can. "It's for emergencies," he says with a smile. It's an obliging nod to risk, but one he thinks is gratuitous. "I have a lot of faith in the jerry can."
His may be the least capital-intensive job on the Nile, where white-water rafting has become a cash cow of Ugandan tourism. The river supports about 12,000 rafters each year, most of them foreigners, and another 200 or so fishermen, local leaders say.
But the fishermen need boats and nets and oars; the white-water guides need top-of-the-line rafts and safety equipment. Wasige needs an item so cheap and so ubiquitous that even the poorest African homes have them. Like millions of other people across the continent, Wasige uses the jerry can to haul water into his house – when he's not using it to keep himself afloat.
•••
Wasige is the youngest of the Bujagali Swimmers, a quartet of guys who taught themselves how to rough the rapids of the river they grew up on.
To chart their course, they took the long, thin tail that hangs from a bunch of bananas, threw it into the water, and watched how it moved. When they pulled the stem out of the water, they checked for scratches, a sign that the stem had scraped a rock they'd want to avoid themselves.
---