Now playing: a coastal town's rite of summer
With Cape May's historic movie theater at a crossroads, supporters race to write a happy ending.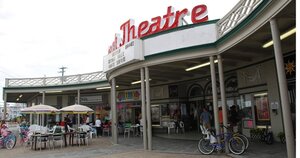 Courtesy of Steve Jackson/Beach Theatre Foundation
If you just want to see a movie, it might be easier to drive a few miles north to the 12-screen, where there's parking. Or, for that matter, you can head to Blockbuster. Open your Netflix. Order something from On Demand.
But at the shore, in the summer, the movie isn't the point. Not entirely, anyway. In Cape May, at least, you don't usually drive to the movies. You walk. Otherwise, how would you see the day lilies and the ivy against the backdrop of a picket fence? Or the sunburned families, freshly dressed, headed for an ice cream?
You'd miss the evening murmur of voices floating from the broad porches with their deep awnings. And you wouldn't know that gnarled old tree roots give the sidewalk a roller-coaster effect, so that walking itself requires some attention.
Here, where the walk is the vacation for many, and the movie a reason to walk, generations of residents and visitors gasped a year-and-a-half ago when word got out that the Beach Theatre's owner planned to sell it to make way for condos. Obviously, someone didn't understand.
"I could not believe it," recalls New York City ad man Steve Jackson, sitting in the cozy theater lobby. A widower who still spends summer weekends in the Columbia Avenue house his parents bought when he was a child, he recalls, "I went here with my friends. I went here with my sister. I went with my girlfriends, with my wife, with my mother and father...."
---
Follow Stories Like This
Get the Monitor stories you care about delivered to your inbox.