A reporter's journey through the Olympics
He encounters consistently friendly Chinese volunteers, lamb skewers at 3 a.m., Swedish ping-pong, and the arcane rules of fencing.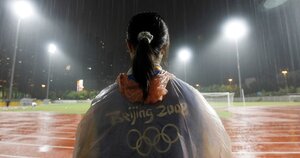 Marcos Brindicci/Reuters
It is 2:30 a.m. I have no idea what day it is. The men's 200-meter dash finished a few hours ago. One measures time by events here, not by days or hours.
I am walking back from the Bird's Nest in a light drizzle, thinking that, for journalists, the Olympics are nearly as much about these moments – in the wee hours of the night, story freshly finished – as they are about the actual events. The Olympics seem mine now, personal. Other than a Russian TV crew doing a daily wrap-up in front of the glowing red spaceship of the Bird's Nest, I am alone.
Or so I thought.
Without warning, four Chinese volunteers appear from nowhere in some sort of über golf cart, as if a normal cart woke up one day and became a Cadillac Escalade. They are offering me a ride back to the Main Press Center.
The Main Press Center is, at most, a five-minute walk away – hardly a hardship. It is 2:30 in the morning. There are four of them. And they are all smiling.
This, I think, is the Beijing Olympics.
Volunteers at every Olympics are a unique breed of human, infused with the angelic temperament needed to deal with journalists 24 hours a day. But here in China, I have sometimes felt as though they stopped short only of fanning us with palm fronds and offering grapes as we write our stories.
When it began raining, volunteers gave us free ponchos. I have ordered lamb skewers in the media cafeteria at 3 a.m. Nevermind that at every other Olympics, nothing in the media center would have been open past midnight. Here, there were a half-dozen people to serve me, and another two at the register. I will remember this as the Clockwork Olympics.
---