The hunt is on for host families
Hosting a foreign exchange student improves global understanding, but fewer families are volunteering because of the poor economy.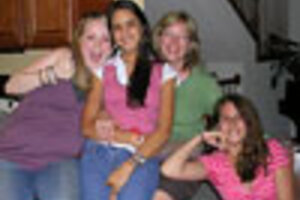 Courtesy of The Center for Cultural Exchange
August always ranks as the busiest month for Lori Tibbett. As director of placement services for the Center for Cultural Interchange in Chicago, she and a network of volunteers face a looming deadline: finding host families for nearly 1,000 foreign exchange students by the end of the month. The task is never easy, but this year presents an added challenge.
"People are worried about the economy, even if it hasn't affected them directly," says Ms. Tibbett, who still needs 150 hosts. "Some say, 'I'm not sure about my husband's job,' or 'It's going to cost more for gas and food.' "
Despite these concerns among potential hosts, more high school exchange students are coming to the United States than ever before, says John Doty, president of Pacific Intercultural Exchange in San Diego. At the same time, exchange programs are undergoing changes. They're drawing students from more countries and enlisting hosts from a wider range of family types. Hosts now include single people, single-parent families, and retired couples.
Retired people offer the advantage of having time to devote to a student, Mr. Doty says. "Students from Asian countries are more respectful of older people. They may live with a grandparent at home, so living with a retired couple here is not a big step for them."
---