Protests for peace in a military stronghold: Virginia Beach
From mock trials to social-justice salons, an ardent group of activists presses forward.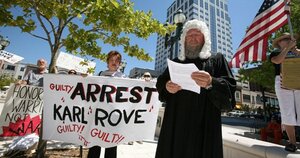 Courtesy of John H. Sheally II/The Virginian-Pilot
Virginia Beach, Va.
Karl Rove was on trial outside Ruth's Chris Steak House here on a Friday morning a few weeks ago, charged with misleading the country into war, exposing a covert CIA agent, and orchestrating the firing of career US attorneys from the Department of Justice.
He smirked beneath his devil horns, flanked by a bailiff, a pair of robed judges, even outed CIA operative Valerie Plame – all of them playing to a jury of a few dozen peace activists.
And how did they find the defendant? Guilty as charged!
Mr. Rove – the real in-the-flesh Rove – was dining inside the steak house at a fundraiser for local US Congresswoman Thelma Drake. He would later sound nonplused by the court case as well as the protestors.
" 'I was sort of upset,' " Rove joked in the next day's local paper, the Virginian-Pilot, when asked about the mock trial.
" 'There should have been more people.' "
But this group of activists has been called far worse things than, in Rove's words, " 'anemic.' " To them, there is something both isolating and exhilarating about preaching peace inside one of the country's most militarized zones. Every branch of the military has at least one base – including the world's largest naval installation – within 50 miles. Also in the area: the CIA's training "farm," NATO's Allied Command Transformation, and the headquarters of security contractor Blackwater.
---