Deals on meals at do-it-yourself grocery
Members of Brooklyn's Park Slope Food Coop slash their bills for locally grown and organic foods – in exchange for labor.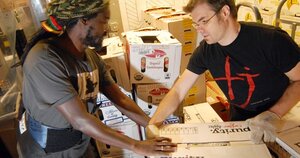 Stephanie Keith/Special to the Christian Science Monitor
New York
Just after sunrise on a warm Monday morning, Michael Bates tucks his skateboard under one arm and descends into the basement of his local grocery store to start his shift as a receiving worker. Dressed in an old T-shirt and shorts, Mr. Bates pulls on a pair of padded orange gloves and greets co-workers, who today include a librarian, a comic-book writer, and a magazine editor.
"What are you guys waiting for?" calls out Guadalupe Rosales, a petite, curly-haired supervisor on the crew.
She punches a button, and a conveyor belt transports a trail of boxes into the basement. Salsa music blares from speakers as the small crew gets into a groove, sliding cartons of coconut juice, dishwashing liquid, and macaroni and cheese along abacuslike tracks to categorize them by store aisle. Soon the workers are breaking a sweat, stacking crates of toilet paper, cat food, and cereal around the room.
Bates, a bespectacled jazz musician, isn't working a day job to earn extra money. He's doing it to save money. He and just about everyone here at the Park Slope Food Coop works without pay – and most do it with a smile. In exchange for 2.75 hours of labor a month (plus a $25 joining fee and a $100 refundable investment in the organization), Bates and his fellow members may shop at the cooperative, which charges a minimal markup on wholesale grocery prices.
Unlike most other food co-ops around the country, member-staffed organizations are able to charge far less by eliminating high labor costs that amount to 70 percent of a traditional supermarket's overhead. They offer local, organic produce from nearby farmers, proving that healthy, natural food doesn't have to be a luxury. Most members estimate 30 percent to 40 percent savings on their grocery bills.
---