'Running of the Lizards' yields a slithery quarry
Residents of Topeka, Kan., turn out for the 11th annual event to collect and count Italian wall lizards in the name of science and fun.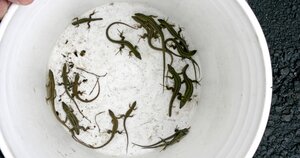 David Conrads
Keith Arkenberg, a college senior, has honed his own technique. When trying to catch a lizard, he doesn't sneak up behind it or flash a butterfly net. He just gets down in front of it, stares it in the eye, and snatches it before it darts off.
Which is why Arkenberg, a tall, slender biology major with a brown ponytail, is hunched down in an alley near an auto-parts store here in Topeka, Kan., across from Dimple Donuts. He is stalking the elusive Italian wall lizard. His technique proves triumphant: Over the course of two hours on a sun-dappled day, he snares four of the slithery creatures.
"I used to catch a lot of frogs to feed my snakes when I was younger," says Arkenberg. "It's just a matter of getting down in front of them and grabbing them before they take off."
The point, in the end, may not be how he actually catches them. It may be why anyone who is pursuing a college degree, and thus presumably in his right mind, would be chasing lizards on an afternoon in Topeka, Kan., anyway. In fact, some 30 adults and children are gathered to hunt the four-inch reptiles. They are part of an annual ritual to collect Italian wall lizards in the name of science and a little fun.
---