A writer journeys into North Korea with Chinese tourists
He catches a glimpse of everyday life in the 'hermit kingdom' – sidewalk vendors, electric trollies, neighborhood shops – but also encounters the ever-watchful Pyongyang police.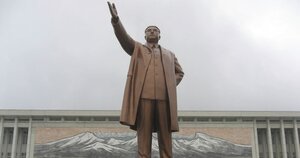 Jerry Guo
Ox-drawn carts squeak by towering marble monuments – with slogans like "Live forever our father" [Kim Il Sung]. Remnants of four-lane highways snake parallel to a single train track that handles all traffic through the northwestern corridor. Schoolchildren in tattered shorts play near stiff-faced sentries (the kids wield sticks; the soldiers, automatic rifles).
Such dichotomies reflect the perplexing and almost unimaginable world that is the Democratic People's Republic of Korea, a hermit kingdom that may harbor a half-dozen nuclear weapons or more while simultaneously being on the brink of a famine that could doom most of its peasant population.
Now, with outside reports that North Korea strongman Kim Jong Il is seriously ill, international attention is focusing once again on this troublesome nation. The world's leaders remain, however, much as everybody else, befogged about the road ahead for North Korea. The reason for this is simple: practically nothing – news, Western luxuries, even people – is allowed in, or out.
But here I am, riding a German-imported train with 30 other Chinese tourists and plenty of North Korean guards patrolling the cabins, on our way to Pyongyang. I've come to see what life here is like for the Koreans, fully expecting the absurd.
What I didn't expect was a history lesson on my own cultural heritage (I moved from China to the US when I was 6), for I had inadvertently stepped through a time portal into 1970s Red China, right down to the Orwellian surveillance and forced confessions.
---