Peacemakers broker South African land reform
White farmer Peter Nicholson partners with the Venda people to tutor them to a successful takeover of his land.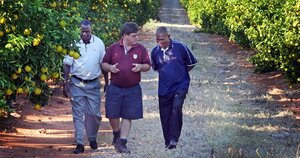 Melanie Stetson Freeman – Staff
TSHIPISE, SOUTH AFRICA
When Peter Nicholson looks at his 20,000-acre Alicedale Estates, he sees the lush orange groves that he carved out of the arid scrubland 15 years ago to generate a healthy income for his family.
When Chief Alfred Nemamilwe looks at it, he sees the vast territory of the pastures, villages, and sacred sites of his Venda-speaking ancestors that his people will control once more.
This might sound like the beginning of a conflict. But Gerrit Booyens, an idealistic white businessman, has a third vision for this vast chunk of land. He sees a peaceful melding of both Mr. Nicholson's and the chief's dreams: an equal business partnership between the two, with Nicholson training a new generation of black farmers and Chief Alfred ensuring that his community begins to see commercial farming as an engine for local jobs, as well as a last chance to preserve their cultural heritage.
Mr. Booyens, whose agribusiness career became business peacemaking with postapartheid redistribution, is under no illusions. "When you bring white farmers and [black] communities together, you have to unpack their fears. I fear you will take me to the cleaners. You fear you won't get enough for the land. He fears that without the land, his children will not follow in his footsteps."
But when people start talking about their fears, he says, they find they have more in common than they realized. "Because we are different doesn't mean that any one of us might be wrong. Together we might be stronger."
---