Ethiopian Jews act out their journey to Israel
'Roots Theater' gives voice to the women of the epic flight.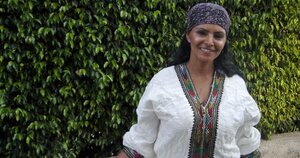 Danna Harman
Beit Shean, Israel
She spent the first few days weaving in and out of the crowd, ducking here, hiding there. By the time her parents, back home in the Ethiopian capital of Addis Ababa, realized their 12-year-old-daughter had joined the caravan of Jews leaving for Israel, she was far away in the Sudanese desert.
Hava Almu spent 12 days and nights crossing Sudan on foot, in extreme conditions, and a year in a squalid refugee camp outside Khartoum, before she was airlifted to a new life in Israel.
Throughout the 1980s and 90s close to 100,000 Ethiopian Jews were brought here as part of major operations – code-named "Moses" and "Solomon" – in line with Israel's law of return which guarantees citizenship for all Jews. Their immigration is often depicted as a fulfillment of the biblical prophecy of gathering all Jews to Zion, and their arrival was accompanied by excitement and celebration. But their journey has not been simple.
Over 4,000 of them died en route. And many of these immigrants, who came from remote, poor villages, have since struggled to adapt to the industrialized, multiethnic society that adopted them.
Even today, 23 years later, in her Beit Shean home, where she and her policeman husband are raising a brood of Hebrew-blabbering children, the anxieties of that journey out of Africa, the years of longing for her family, and the difficulties of taking first steps in Israel haunt Ms. Almu.
They haunt her, but she'd never spoken of them – until the day six years ago that Talia Argaman came along and opened a free women's drama class at the local community center. "In our community you keep things in the belly," Almu had explained patiently to Ms. Argaman, a newly minted community social worker from a nearby kibbutz in the Jordan Valley.
---