Artists try to save Gdansk shipyards – in images
The view is stark as the birthplace of Poland's Solidarity movement faces possible closure.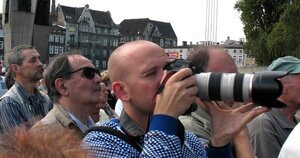 Hilary Heuler
Gdansk, Poland
When Michal Szlaga got his first job at the Gdansk shipyards five years ago, he was fresh out of the arts academy, a struggling photographer desperate for money. He was hired as a shipyard painter, a job that required getting up at 4 a.m. for a day of punishing manual labor in the harsh winter of northern Poland. One morning he woke up crying.
He lasted eight days. Then he quit.
But Mr. Szlaga couldn't leave; he may not have been able to hack it as a painter, but as a photographer he was hooked. This giant industrial complex – site of the beginning of the end of the communist Bloc – holds a hallowed place in Poland's collective memory, even as it disappears off this nation's economic map.
"These are the most recognized shipyard workers in the world. They are heroes for some people," Szlaga says, explaining why he traded winches and blowtorches for his camera and began documenting the men and women who spent their lives there. "I realized I could only take pictures. It's all I could do here, really."
He's not alone. For seven years, a colony of artists like him have lived and worked among the towering cranes and 19th century buildings.
---