Battle of the boards erupts over paddle surfing
Stand-up paddle surfers use larger boards and paddles to catch waves, but traditional surfers resent the intrusion of the often-novice boarders in their waters.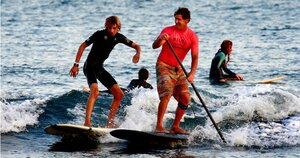 Charles More
It's been nearly 30 minutes since the last rideable wave rolled through first point at Malibu, and about three dozen surfers are cold and downright cranky. "Would someone please deposit a token to start the wave machine," grouses one surfer.
A few chuckles and pseudo dolphin cries later, a wave forms in the distance and a mass migration of surfers begins jockeying for position.
"It's mine, it's mine," a longboarder shouts as he maneuvers his 10-foot projectile in front of the oncoming wall of water. He is sandwiched between 15 other surfers, all of whom are charging the same wave with ravenous eyes and visions of 10-toe glory.
And then there's Tom Tilberg, already standing on his board and gracefully sweeping the water with a paddle like a gondolier. Two quick strokes and he's the first one in the wave, enjoying a 50-yard ride that ends with a frothy finish.
"It's just too easy to get into waves on this thing," says Mr. Tilberg, riding his stand-up paddle board. "Sometimes you get dirty looks."
Wave envy – or perhaps animosity – runs deep in southern California as more people jockey to ride the same crowded breaks. Now a new form of surfing is gaining popularity that is adding to the congestion off coastlines around the country.
Called stand up paddle surfing, or SUP for short, it involves using a big surfboard that is stable enough to stand on when in flat water. Then, wielding a paddle or "blade" for propulsion, SUP riders canoe up to catch a wave.
---