Farming interns sow their sustainable oats
A New Jersey farm teaches developing-world farmers and Americans with a desire to get back to the earth.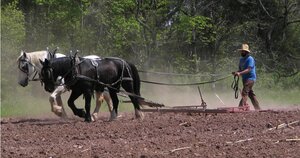 Jared Flesher
TITUSVILLE, N.J.
On my first visit to Howell Living History Farm, Rob Flory led me directly to the manure pile – a formidable mountain of dirty straw bonded together by the odorous excretions of horses and oxen.
"Time to fill the spreader," Farmer Rob explained as he handed me a long-handled pitchfork and
pointed toward the empty wagon.
My suspicion was that "The Pile" was my first test, intended to dispel any romantic illusions surrounding agricultural labor. As a prospective farm intern, I needed to demonstrate my willingness to stand ankle-deep in it five days a week. I wanted the job, so I got dirty quick.
Experience has since taught me that the goal when shoveling manure is just the opposite – try not to get dirty, and don't pitch into the wind. But I did get the job.
I'm one of those young adults you hear about who comes down with a sudden, unshakable yearning to grow some vegetables. After graduating from college in 2005 and completing several tours of duty in fluorescent-lit offices, I decided I needed to get back to the earth. A slight difference in my case is that I went way back, about 100 years or so.
Howell Farm, located on 130 public-owned acres in Mercer County, N.J., is both a real farm and an active museum, dedicated to the preservation of American farming practices circa 1900. For the past six months I've had the opportunity to guide old-fashioned walking plows, seed drills, and cultivators through the fields behind 1,800-pound draft horses or one-ton oxen.
---