New Yorkers say the darndest things – and "spies" await them
"Overheard in New York" captures the bon – and not so bon – mots floating in the urban ether.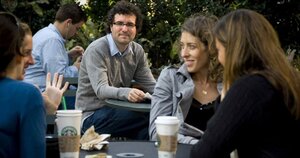 Anne Hermes/Staff
New York
On a scorching September afternoon, Morgan Friedman, semi-professional wanderer, must stop. We've been moseying through Brooklyn neighborhoods for nearly two hours, because I wanted to know how Mr. Friedman, who's achieved mild fame for knowing how to find the pulse of New York City, works. But now he needs a little nourishment – and, he is unashamed to admit, a little A/C.
We duck into a tea house, and Friedman orders a salad. No music is playing. No one is talking to each other. Fourteen people type on laptops; two fill in bubbles in test-prep books; one reads the Sunday New York Times. Only a pair of women sit utterly unoccupied, sipping iced drinks and staring out the window.
"Let's sit here," Friedman says, settling into the arm of a couch, where we will be literally surrounded by iBooks and people to spy on. "We need to reduce the human-to-laptop ratio."
Friedman picks through his salad and watches the crowd. He looks at the pair of women gazing out of the window. "Do you think they're mother and daughter?" he asks.
"Could be," I say. He agrees, saying that too many years seem to separate them for the women to be simply friends. Also: "It looks like they have nothing to say to each other, which implies a familial relation to me."
---