An alfresco Arctic art gallery warms the soul in Iceland
Yoko Ono's monument is just the tip of the iceberg on tiny Viðey Island.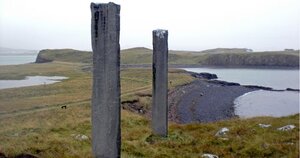 Brendan O'Neill
The boatman doesn't speak English. Or maybe he just doesn't want to. I ask him his name, hoping to follow up with a fusillade of questions about how long he's been sailing this route, and whether he likes it here in the Arctic cold of northern Reykjavik; but my plan is foiled by his brusque reply: "Ticket."
I can take a hint in any language, and take a seat at the back of the boat. I am the only passenger. We leave Sundahöfn Harbor and set sail for Viðey (pronounced veethey), a tiny, uninhabited island less than a mile off the coast of Iceland. It is, I've been told, 400 acres of unspoiled greenery, rain-slick rocks, fluttering birdlife and ... modern art.
Yes, this is, possibly, The Hardest To Reach Art Gallery On Earth.
The boat rocks side to side, draped in sheets of rain. When we pull into Viðey Harbor, there is not a single soul to welcome me to the island.
"So, you'll pick me up at 3:30?" I ask the boatman. I think I hear him say "Já," but the prospect of being alone on an uninhabited island plays tricks on my mind, and I wonder if really he said, "Bah," or even worse: "Ha!"
• • •
Putting an art gallery on a remote edge of Europe is quite in line with the character of this island nation. Icelanders are proud of their isolation and the spirit of independence it engenders. The novel for which Halldór Laxness, the Icelandic writer, won the Nobel Prize in 1955 was called "Independent People."
In the tourist shops of Reykjavík there are rows and rows of T-shirts that say, "Lost in Iceland" on the front, and, "Is anybody out there?" on the back. The cover of the current issue of The Iceland Review says: "Nobody can hear you scream ..." It's the headline for a feature on Icelandic crime writing which is often set in dark, remote towns, but it could just as easily be the headline for a feature on Viðey.
---