Vietnam eats, sleeps, and dreams on motorbikes
Evidence of "moto" madness: A family of four on a speeding cycle sharing a bucket of fried chicken as they go.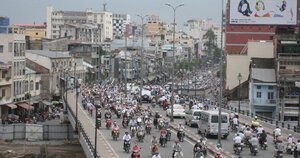 Patti McCracken
Ho Chi Minh City, Vietnam
Ho Chi Minh City, Vietnam
I stood just outside the storefront, leaning against the door frame waiting for a delivery. On the fractured sidewalk in front of me, a man napped on the seat of his motorbike, his arms folded across his chest, his legs draped over the handlebars. Settled into his daytime slumber, he was cocooned from the mad cacophony of the street, where masses of motorbikes tipping with payload, sped about in all directions, dismissive of signs, signals, or even an iota of order.
Looking at him, so unaffected he could nap amid the free-for-all, I was once again stunned by the fantastic bedlam of Vietnam's "moto" culture; a bedlam that is simply white noise to locals.
I watched as several motorbikes bumped up onto the sidewalk, nimbly dodging the droves of pedestrians and turning this city sidewalk into a traffic feeder lane. Out of the stream emerged a "moto" driver laden with boxes of computer equipment, who wove his way around the napper and the other sidewalk sideshows. He appeared to be driving toward the doorway I was standing in. I was curious, wondering when this driver would stop, or if he would stop. I quickly sidestepped to make room for him as he eased the bike over the threshold, only arriving at a full stop once inside the store. For a foreigner, this was breathtaking. For the Vietnamese, it was a plain-vanilla-ordinary thing to do.
To the Vietnamese, a motorbike is not just a vehicle, but a bionic limb. A magic carpet. A personal jet pack, able to propel them from their living rooms (where many park their bikes) to any doorstep. Legs and feet are backup forms of transport, used only as a last resort.
And packs of motos swarm through the streets and onto the sidewalks, weaving and honking, dodging and turning, often hulking with the likes of plate glass, doors, household appliances, and even amusement park props in tow.
---