An Indonesian artist uses her canvas to unite a nation
Grace Siregar taps local artists to create public sculptures and other artworks that emphasize themes of peace and reconciliation.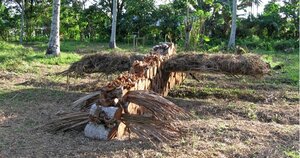 Oakley Brooks
At first, Grace Siregar responded to the political upheaval of 1998 in her native Indonesia with artistic shock. Suharto, the repressive strongman who ruled for more than 30 years, was gone.
In the streets, Indonesians were turning on each other, neighbor on neighbor, ethnic group on ethnic group, to vent their frustration over a generation of political repression and recent economic woe.
Siregar's oil painting, "My Country," begun that year while she was abroad in Holland, is a wall-length, sullen, black cloud. "We were famous for our kindness and then we changed to something else – demonic almost," she says. "I was crying when I painted it."
But a strange thing happened when she returned to Indonesia and visited East Timor, a restive province that had just suffered through a bloody struggle to win independence from Indonesia. There, Siregar was treated with a surprising tenderness by the ethnic Timorese who had every reason to hate her. Elsewhere in the country, a sense of gentility seemed to be holding on, too.
And so from the ashes of the upheaval came a new mission: to draw fractious groups back together – through art.
Since then, Siregar has been a sort of roving artistic reconciliation show, working to carve out new places for expression as the country explores its thresholds for tolerance in the post-Suharto era. She has gotten rural artists from warring religious groups to contribute to joint art installations in the eastern provinces of Maluku. She has invited a polyglot group of artists to contribute to her free-form gallery in Sumatra. She's painted peace totems on freeway overpasses and asked diverse painters to depict the devastating Asian tsunami.
---