Thai Internet wunderkind captivates audiences from behind bars
Panrit Daoruang, popularly known as 'Gor,' once blogged about his life as a teen drug addict. Now he crusades about prison overcrowding and helps fellow inmates.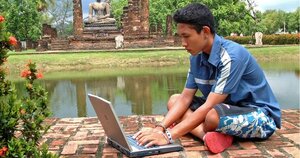 Photo courtesy of Richard Barrow
For Thailand's most famous blogger, who launched an online diary at age 12, the current method of updating his website seems rather anachronistic.
From behind wire mesh and plexiglass, Panrit Daoruang – or "Gor," as he's popularly known – dictates to his former English teacher, Richard Barrow. Mr. Barrow takes notes and uploads the new entries for him on a laptop.
Though his autobiographical blogs remain extremely popular, Mr. Panrit, now 22, hasn't touched a computer in two years. He is serving a three-year sentence for drug possession, and inmates like him at Samut Prakan Prison, near Bangkok, aren't allowed access to the Internet (or even newspapers and TV).
At night, he shares a small cell, initially planned for 25 inmates, with as many as 65 other prisoners. For recreation Panrit plays chess and writes letters. The focus of his blogs has changed from the life of a troubled teenager to crusading about prison issues and being an electronic nanny to fellow inmates. "Richard," Panrit says to Mr. Barrow at one point, "write down this number.... Tell Yui she must call Phi Ple [elder brother] more often because he misses her."
An olive-skinned man with boyish features, Panrit is a popular inmate: He often translates for guards and foreign prisoners, one of whom had been reading his blogs before he wound up in the same prison.
"I want people to know we're not all criminals and bad guys," Panrit says of his reason for continuing to blog from behind bars. "It [also] helps prisoners' families to know they're doing well."
Panrit and Barrow now run thaiprisonlife.com, a popular website (it's ranked first on Google) about life inside Thailand's notoriously overcrowded prisons. They also campaign against drug use and warn foreigners about the country's draconian narcotic laws.
---