Where land and art become one
The genius of Storm King Art Center in Mountainville, N.Y., derives from the interplay between colossal sculptures and expansive terrain.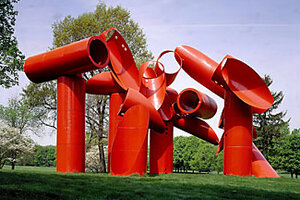 Jerry L. Thompson/Courtesy of Storm King Art Center
I have passed Storm King Art Center on my route south to New York City for years. The rolling landscape of the upper Hudson River Valley, seen from the New York State Thruway, has an other­worldly quality, as if the trees are hiding secrets. The best-kept secret is the center's existence: The only hint of a sculpture park is a peek-a-boo glimpse from the highway of a huge, I-beam steel sculpture resting in a field like a giant's plaything.
On a brilliant, rain-washed afternoon last July, my husband and I finally paid a visit to Storm King. The sculpture that had jolted us out of our 65-m.p.h. stupor turned out to be "Pyramidian" by Mark di Suvero, one of more than 200 large sculptures on the grounds.
The center, which is open to the public from April to the end of October, takes a bit of searching to locate, but rewards visitors with spectacular views, landscaped meadows, and stunning abstract works of welded steel. The artists represented include such 20th- and 21st-century marquee names as Alexander Calder, Richard Serra, Louise Nevelson, and Nam June Paik.
---