From gravel pit to inspired landscape
The landscape design at Storm King Art Center weaves the museum's sculpture and terrain into a harmonious whole.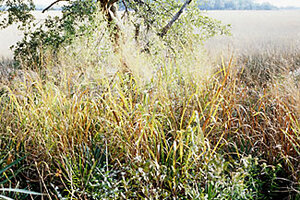 USDA
Storm King Art Center draws on a heritage rich with artistic and agricultural traditions. Comprising 500 acres of former farmland in the Hudson River highlands of Orange County, near Newburgh, N.Y., the center takes its name from Storm King Mountain, with an elevation close to 1,400 feet. The tree-lined peaks and sloping ravines were first captured on canvas by a group of 19th-century painters who came to be known as the Hudson River School.
Later, Winslow Homer, who summered nearby, made watercolors of Schunnemunk Mountain. The area retains its primeval feel along with the spectacular cloudscapes that so often captivated those painters.
In the early 1960s, Storm King's founders hired landscape architect William Rutherford of Greenwich, Conn., to repair the damage leftover from gravel quarrying and stitch the landscape back into its pastoral setting.
"The property was in poor condition," says David Collens, director of Storm King. The quarrying "had left a cliff with pools of water below."
Rutherford, who passed away in 2005, had a special fondness for Storm King. He was a self-effacing man with little interest in splashing his name all over the project, Mr. Collens says. "He wanted people to think that God had made the landscape."
Rutherford designed the landscape to radiate outward from the hilltop where the original house is sited. He brought in tons of gravel to restore the hill's slope. Rather than blocking the distant highway view, he screened it with trees. When paths between the sculptures were called for, he responded by telling the mowing crew to create broad, 60- to 80-foot-wide strips to preserve the large scale.
---