Dallas preacher T.D. Jakes takes his pulpit to Africa
The megachurch leader's entrepreneurial evangelism is popular with a new generation of South African blacks.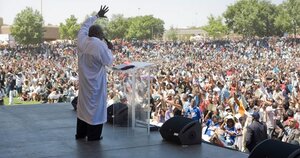 Rance Elgin/Courtesy of The Potter's House
JOHANNESBURG, South Africa
Johannesburg, South Africa
The crowd is electric even before he walks on stage. They've been dancing and cheering, singing and praising. They've been loving the Lord and reaching to heaven, up in that cobalt blue African sky, far beyond the mine dump that looms next to this arena as a reminder of the bad old days, back when black South Africans were expected to toil and sweat to make white people rich.
They came in minibus taxis and shiny BMWs; with lawn chairs and blankets and babies and boyfriends; with $3 tickets and VIP passes. They woke up at 4 a.m. to arrive early, lining up hours before the gates of the Expo Centre opened. They didn't want to miss "T.D.," as he's known here – the American author, preacher, and religious television star, Bishop T.D. Jakes.
"I love his preaching," says Thongie Nduna, a flight attendant turned stay-at-home-mom who is trying to shade herself from the punishing sun with oversized sunglasses and a program pamphlet. "When he preaches, he can see you. And he might be on the TV, but it's like he's talking right to you. I love him."
---
Follow Stories Like This
Get the Monitor stories you care about delivered to your inbox.