Iceland's new island is an exclusive club – for scientists only
A UN World Heritage site that no tourist will ever set foot on, Iceland's Surtsey is a fresh geologic creation reserved for research.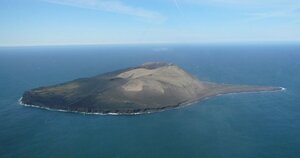 Sara Blask
Buckled in? Check. Life jacket secure? Check. Noise-reduction headphones on? Check. No seeds in any of your belongings? Check. You sure? Yes. And up lifts the Icelandic Coast Guard's Super Puma helicopter ferrying me to Iceland's jealously guarded natural gem, Surtsey Island.
Though it was named this summer to the UNESCO World Heritage List – joining other natural heritage sites like the Great Barrier Reef, the Galapágos and Yellowstone National Park – no tourist will ever get to visit.
Located 20 miles off Iceland's southern coast, Surtsey – named after Surtur, the fire giant of Norse mythology – was created in a volcanic eruption that began not millions of years ago, but on Nov. 14, 1963. It was a fresh specimen of geological and biological evolution. And even as the eruption was still in progress in 1965, the Icelandic government designated the island a nature reserve – for scientists only; a place they could document the evolution rock by rock, blade by blade, bird by bird.
Geneticist Sturla Fridriksson has been here from the beginning, and my feet had barely hit the island before its white-maned icon was chuckling to me that he's "twice as old as these hills.... Here in Iceland we talk about the trolls getting very old. And the trolls are as old as the mountains."
That first dark November morning after the eruption started, Dr. Fridriksson hired a plane to fly over the new landmass exploding violently from the ocean floor. Now 87, he's rarely missed a summer expedition to the island since.
---