For this team, winning is just showing up
Avella, Pa., may have lost every football game this season. But the team was triumphant in just being able to field enough players – including, occasionally, a female cheerleader.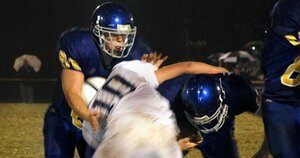 Christina Kelley/Special to The Christian Science Monitor
On a drizzly Friday night at Avella High School, several hundred fans linger – shivering – to watch the end of the final game of the season. With Burgettstown threatening at the Avella three yard line, junior linebacker Nathan Carl defends his goal line as if it were the Alamo, cracking a running back head-on for a two-yard loss. But it's a brief reprieve. One play later Burgettstown scores, making it 40-0.
It's the lowest point total an opponent has scored against Avella in the last seven games, which isn't much of a moral victory. But the team isn't giving up now. Not when the squad could have easily done that back in midseason, when Avella was down to only 13 healthy players and a cheerleader convinced the coach to let her join the team so it wouldn't be forced to forfeit a game.
So Avella grinds its way downfield, and sophomore Jared Magon scores with 3:02 left in the game.
A few students behind the bench begin to chant: "Put Anastasia in." After the kickoff, coach Frank Gray does just that, sending in junior Anastasia Barr, the captain of the cheerleading squad, point guard on the basketball team, member of the track team, and now defensive back on the football team. Barr moves up for a running play and makes a tackle. The fans erupt as if they were watching the climax of the movie, "Rudy."
---