From housing rubble, sprouts green furniture
A Piece of Cleveland goes beyond recycling to upcycle old-growth wood from demolished homes into new objets.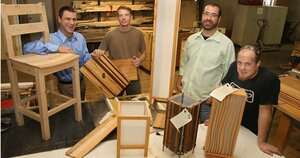 William Reiter/Special to the Christian Science Monitor
Cleveland
If you drove by the old Stanard School at E. 55th Street and St. Clair Avenue, it didn't look like much. Just another old building lost to years of neglect and probably a frequent site for illicit activity. When the city slated it for demolition in 2007, the four guys at A Piece of Cleveland (APOC) were on alert. They knew that within the rubble of framing lumber, busted bricks, nicked doors, and scuffed wood floors destined for landfill were treasures to be mined.
The piles of maple flooring and old growth pine werewoodworkers' gold, the kind of material readily found when the homes were built 100 years ago, but rarely available today.
In the maple they envisioned the beautiful blond wood chairs that today sit in their downtown studio. They saw cutting boards and chopping blocks that in the past year became a local culinary gift sensation, particularly on the bridal shower circuit. In old-growth pine, with its tightly wound concentric rings, they saw the contemporary pattern perfect for the countertops now installed in a customer's home.
Every year in Cleveland, a thousand homes are demolished to make way for parking lots, businesses, and new homes, or to remove blighted remnants of the foreclosure crisis.
During the demolition process, most items such as concrete, brick, and wood are recycled – crushed and ground for other uses. But that process still brings it one step closer to the landfill because that material cannot be recycled yet again.
APOC takes the two-by-fours, framing lumber, doors, and wooden floors of those wood-frame homes and buildings and gives them new life – as chairs, lamps, tables, bookcases, cutting boards, countertops, and conference tables.
The wood that held up houses for generations will have new purpose that will last generations longer. This is "upcycling," a term coined by designers William McDonough and Michael Braungart in their book, "Cradle to Cradle: Remaking the Way We Make Things."
---