Accused of a crime, a Rwandan refugee has her day in court
A faulty subway fare card lands her in handcuffs and court. But all is forgiven when a white reporter shows up.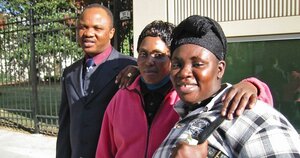 Mary Wiltenburg
For the Monitor's yearlong multimedia project following Congolese third-grader Bill Clinton Hadam and his charter school community in Atlanta, correspondent Mary Wiltenburg blogs several times a week about the discoveries and missteps his refugee family makes adjusting to American life. Like the roaches in their apartment that swarm as Bill tries to do homework. Or his 8-year-old brother Igey's decision to Americanize his name. ­This week, Ms. Wiltenburg joined Bill's mother, Dawami, in court. This article is adapted from her blog report.
Atlanta
Tuesday afternoon, Rwandan Dawami Lenguyanga stood before an annoyed Judge Catherine Malicki of the Municipal Court of Atlanta for her arraignment on a charge of disorderly conduct. As Dawami's friend Felix Mulamba translated, and her co-worker Felicia Jackson tried to testify on Dawami's behalf, the judge frowned over her glasses.
---