New York tries to create Gardens of Eden on city streets
The Bloomberg administration sets up oases of plants and blooms of umbrellas along Broadway in a quest to devise a new urban aesthetic. Is it the Left Bank of Paris or just a bank of shrubs?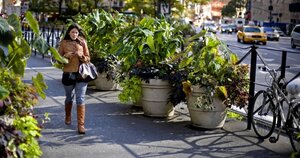 Ann Hermes/The Christian Science Monitor
Public spaces along Broadway, the original Manhattan thoroughfare that slashes through a rectangular grid of streets, creating triangular intersections with paradoxical names like Times Square, have hardly been havens for people out for a leisurely walk or an outdoor cappuccino.
In fact, the quintessential Broadway tableaux bring images of the Canyon of Heroes and ticker-tape parades, the flashing din of 20-story advertisements and New Year's dropping crystal, or the glitz of the theater district and its blaring marquees. For the most part, there are no New York pedestrians on its narrow sidewalks – only New York crowds.
But for the past few months, the city has been unveiling a remarkable new approach to its streetscape, including a subtle transformation of the famous Manhattan way, meant to make its streets more green than mean. In addition to closing off selected "summer" streets from vehicles, the Bloomberg administration has begun to line its thoroughfares with bike paths, patchworks of greenery, and the colorful bloom of umbrella'd tables and chairs.
While dozens of relatively quiet spaces exist throughout the city – not to mention the vast 843-acre swath of ponds and trees in Central Park – New York foresees a million more residents by 2030 and a need for an enhanced street life at once more walkable, livable, and public.
"To accommodate that kind of growth, we have to use our streets much more effectively and efficiently," says Janette Sadik-Khan, commissioner of New York City Department of Transportation. "So we're taking a fresh look at our streetscape, our 6,000 miles of streets, with an eye toward the best and highest use of some the most in-demand public space in the country, if not the world. Surely we can do more than just move cars as quickly as possible from point A to point B."
---